Skip Navigation
Website Accessibility
The 2023 Shop Winner.

She must be wondering
what she will do
with all that yarn.
The 2022 Orange Blossom Crawl Winner:






The lucky winner for 2021. With all that great yarn...........what will she do next?



Intrepid Knitters:

Neither rain, nor snow, nor the virus, nor a bike accident can slow our customers. No need to wear lipstick under a mask.
This dress is adorable.
Local Yarn Store Day Came and Went in A Flash
We enjoyed the company of String Theory who brought lots of unique yarns for everyone to ooh and aah over. They gave us a new awareness for the challenges faced by independent dyers to create unique yarns for the marketplace. We enjoyed their visit immensely.
*****The Winners******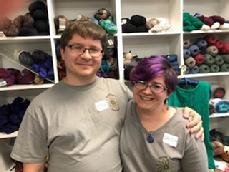 What a team.
2019 KNIT! shop winner