Local Yarn Store Day Came and Went in A Flash
We enjoyed the company of String Theory who brought lots of unique yarns for everyone to ooh and aah over. They gave us a new awareness for the challenges faced by independent dyers to create unique yarns for the marketplace. We enjoyed their visit immensely.
*****The Winners******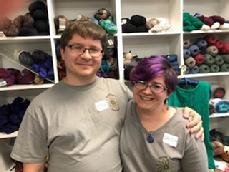 What a team.
2019 KNIT! shop winner