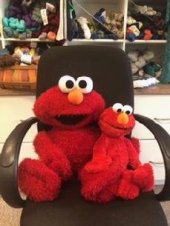 Pioneer Fiber Mill
We recently learned that there is a local fiber mill processing alpaca and other yarns. We are so pleased to have their yarn in our shop. Natural alpaca yarns come in colors ranging from off white through all shades of brown to black. The knitting and drape characteristics of the yarn also vary by the alpaca. Please come in a see for yourself. The Pioneer Fiber Mill offers after-hours and group tours. Contact Steve@PioneerFiberMill.com
New Projects at Knit
A few of the projects completed in the last few months are pictured below. You will amaze yourself. You can do this too.
We can make anything. Imagine how surprised we were to learn that Lori wanted to knit an Elmo - a giant Elmo. As you can see, she accomplished her goal.
We have also made owls, dogs, lambs, crabs. Knitting and crocheting can be very creative.
This hat is in the shop and was made from a super soft Prism wool. A number of people tried it on to see how it looked and it looked great. You can add pom poms to the ends if you like. This might be a good idea for a gift for someone who enjoys skiing or lives in the North.