Skip Navigation
Website Accessibility
The patchwork shawl, or blanket, or pillow
This project is made to be any size you would like. The shawl in the store is made of multiple patches combined and can be made any length or width by adding squares to your work.
Start with a size 6 needle or whatever size gives you the gauge you like. For the same project I used small squares of 12 stiches on a side, some larger squares of 24 stitches on a side and even larger squares of 36 stitches on a side. Always using the 12 stitch base to make it easier to combine the squares and to create a border when you are finished.
For the smallest square, cast on 12 stitches, place a marker and cast on another twelve stitches. For the first row knit all the stitches sliding the marker. For the second row and every alternate row thereafter until you are left with two stitches, Knit to two stiches before the marker, knit two stitches together, slip marker, knit two stitches together, and knit to end. The next row does not have a decrease, it is just knitted. Repeat there two rows until you have two stitches left, one on either side of the marker. Remove the marker and on the next row knit those two stiches together. One square made! Mark the side you want to call the right side.
For the next square, cast on twelve stitches, place marker, and pick up 12 stitches on the right side of the square you just made. Knit the next row and then follow the instructions for the "second row and every alternate row" above.
This project is great for knitting in the car. It will result in a lot of ends to weave in so try to work them in every so often so you are not left with a mess of loose ends when you are finished.
To make the project easier, please feel free to take one or two balls of yarn from the basket and bring back what you have left over. You will need to purchase a few balls of sock yarn to give your shawl a consistent look. We are hoping that everyone will donate their used sock yarn to the shop for others to use.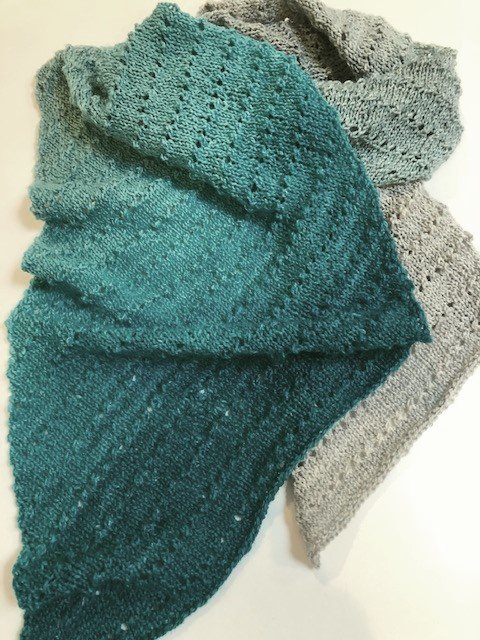 Eyelet Scarf
This eyelet scarf is knit on the diagonal and is the perfect easy project. It is knitted with only one ball of yarn. The yarn balls pictured were made for this scarf and provide exciting results.
The finished dimensions are 13 inches wide and 80 inches long.
Using size 6 needles, cast on 72 stitches. Work in the Bias Pattern (below) until the scarf is the desired length and then repeat the first five rows of the stitch pattern and bind off all stitches.
Rows 1, 3 and 5: Kfb, k to last 2 sts, k2tog
Rows 2 and 4: Purl
Row 6: P1, *p2tog, yo, rep from * to last st, p1.













Berroco Sesame:



This poncho is perfect for this time of year. It is knitted with this wonderful yarn consisting of Wool, Acrylic, Cotton and Nylon. the poncho is knitted on size 8 needles and looks great on everyone who has tried it.